In 2019 our conference theme is "Healthy Living Active Learning" .


Opening Keynote Speaker
Dr. Doug Gleddie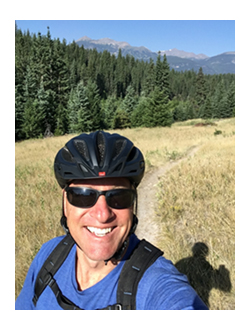 "Living & Learning to be Healthy & Active"
We know intrinsically that active, healthy students are more successful – in school and in life. The research evidence also supports the important and integral links between health and education. Living & Learning to be Healthy & Active will explore both the 'why' and 'how' of the complex, joyful and beautiful relationship between physical activity (health) and student (school) success. Come and join us as we discuss the evidence supporting physical activity and scholastic wellbeing, examine possibilities and maybe even have a little fun!
Bio: Dr. Doug Gleddie is a husband and father who also happens to be an Associate Professor at the University of Alberta. In a career filled with change, the only true constants have been physical education/ activity, working with students and how joy fills the spaces in between. This life-long journey of exploration into joyful and meaningful movement has enabled him to work with a wide variety of people and organizations across Canada and around the world. He has published numerous articles in academic and professional journals and co-authored three books including the most recent – Healthy Schools, Healthy Futures. Doug's research interests include: narratives of physical education; school sport; physical literacy praxis; meaningful physical education and; teacher education. He takes care of his own wellness by being active with his family; improving his guitar picking and seeking new adventures.
Blog: www.purposefulmovement.net
Twitter: @doug_gleddie
---
Thursday Keynote Speaker
Ted Temertzoglou
"Lessons from Health & Physical Education: Student Voice, Student Choice"
Creating a learning environment that allows students to flourish and thrive is every educator's dream and it is the essence of what will be presented in this talk. The underlying idea is captured in Maya Angelou's injunction that "kids don't care how much we know until they know how much we care" and Dr. James Mandigo view that "we do not teach subjects, we teach students." These same themes are imbedded in UNESCO's Quality Physical Education Document for Policy Makers, which promotes the view that quality physical education programs support physical literacy, civic engagement, academic achievement, social inclusion, and personal health. Our time together will focus on health and physical education, but the idea of fostering student voice and student choice is relevant to all educators and students of all backgrounds. I look forward to pushing our thinking forward, together.
Bio: Ted has been a health and physical education teacher for over 25 years. He is the Vice President of Teacher/Student Success at Thompson Educational Publishing specializing in creating evidence-based learning resources for Health and Physical Education. Ted is the lead author of five textbooks and the creator of The Functional Fitness Chart Series. He works with provincial governments, ministries of education, International Schools, school boards and health and physical education teachers, implementing UNESCO's Quality Physical Education Guidelines for Policy-Makers. He is a highly sought-after presenter on physical literacy, health & physical education and wellness. Ted has received the R. Tait McKenzie Award which is Physical & Health Education Canada's most prestigious award. The award epitomizes Dr. Tait McKenzie's professional ideals, his service to humanity, and his dedication to the advancement of knowledge and understanding of physical and health education, recreation and dance. Ted is also a certified personal trainer with The Canadian Society for Exercise Physiology.
Twitter & Instagram: @LifeIsAthletic
---
Closing Keynote Speaker
To Be Announced
---
We look forward to seeing you at our Annual Conference July 3 - 5, 2019, in Vancouver BC.
Capilano Suspension Bridge
Photo by Tim Trad on Unsplash
---